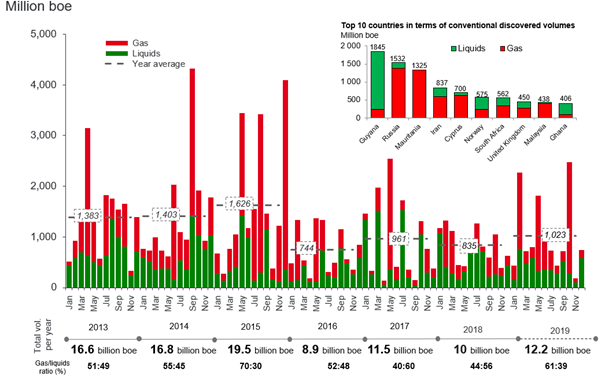 The world's oil and gas explorers discovered 12.2 billion barrels of oil equivalent (boe) in 2019, the highest volume since 2015, according to estimates from Rystad Energy. The replacement ratio was at about 19%. It is improving with respect to 2018 (15%), but it is still far from the 50% level of 2012, and from 100% in 2006, the last year when reserve replacement ratio reached 100% (see here).
For oil, the situation is worse, as oil discoveries amounted to only 39% of the total, i.e. equivalent to about 4.8 Gb. This means that oil companies replaced less than one barrel out of every five consumed.
It was also a disappointing year for high-profile wells as many prospects with significant estimated pre-drill resources failed to deliver.
Press release on the Rystad website.